----- Original Message -----
From: Christian Woehr
Sent: Monday, November 28, 2005 1:27 AM
Subject: Re: Large Conch Shell horn in 'E' (high)
Dear Robert,
My horn is beautiful. It arrived Wednesday, in time to begin toughening up my poor lip.
It is just a bit low, but if I make sure not to block the opening with my hand at all, it is just high enough to qualify as a "folk instrument 'E'
It's so much easier to play (with the brass mouthpiece) than my other conch, and has a big round sound.
My challenge will be to play it softly when required, and to have the endurance needed on it. (It plays almost continuously for several minutes).
I don't actually play it with the orchestra until Wednesday, but I heard a recording of the piece today (Revueltas "Night of the Maya").
It's wild, loud, and sounds like a Human Sacrifice Convention.
The horn on my recording is actually playing a 'C', and sounds rather wimpy and erratic. I hope I can do better.
Thanks so much for your prompt service and excellent product.
Christian Woehr
Saint Louis Symphony Orchestra
----- Original Message -----
Sent: Tuesday, August 23, 2005 10:04 PM
Subject: Re: Your Receipt Order Number: 1343
> Dear Conch King...
> I just wanted to let you know that the conch horns and shell lamps arrived
> the other day and they are absolutely gorgeous! The quality is impeccable,
> the shells exquisite, and I just can't rave enough! One is for my sister,
> who retired on her sailboat, and the other is for our daughter's wedding.
> Both will be heirloom gifts, and they will have fun using them, too! Thanks
> again, so very much, for such an extraordinary product!!! You are
> right...creative people (I'm a multimedia artist) will search high and low
> for truly creative things, and I'm so glad I found you!
> Gayle Rose
>
> Feel free to post this rave on your website!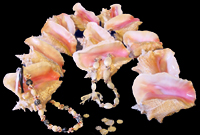 See the new natural cleaned & polished Conch Shells for sale