For all of the thousands of years that man has marveled at the beauty of sea shells no one has ever mastered the art of closing off the upper chamber to make a natural oil reservoir

Go to see the Shell
Lamps Collection
Sound Control
Amazing Gifts Never Made Before
For all of the thousands of years that man has marveled at the beauty of sea shells no one has ever mastered the art of closing off the upper chamber to make a natural oil reservoir
These are the first real Shell Oil Candles!  
  ~The Method ~
Our Patent pending process for closing the upper chamber of natural sea shells involves the permanent closure of the upper chamber.
 This is how these shells can hold water and flowers in the open side while burning oil from the closed upper chamber !
Click all photos for details
~ Refilling ~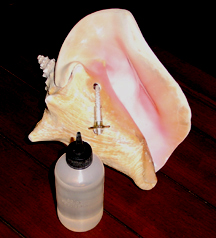 All of these lamps can be filled again and again forever by removing the wick assembly like a cork. Oil candle oil is sold at Wal-Mart and Walgreen's for about .50 cents per ounce. Much less than regular candles. And with a non burning fiberglass wick they are lifetime lamps.
The open mouth remains clean and dry
Water and flowers can be put in the open side !
~ Positioning ~
These lamps can stand in many different positions and burn just the same

All Wish lamps can burn in different positions allowing water and flowers in the open mouth
These three Murex shown above right are all the same shell
They can also hold water & flowers like the Nautilus and Triton shells or potpourri in the bath !
Care must be taken that the fill wick holder does not get positioned lower than oil level. Like all candles these lamps could become a fire hazard. Children and animals are fascinated by the shells and the flame !
Mother Nature and I have taken great care in the creation of these lovely shell lamps !
~ We are both proud of them ~