Warmest Unique Mother's Day Gifts Ever
Engraved Unique Father's Day Gifts !







Never seen Lamps & Centerpieces
Give something no one has ever seen before !
As Seen on Google Unique New Gifts Page 1 & 2 >>>
Sound Control
Store Pages 1 2 3 4 5 6 6a 7 7a 8 9 9a 10 11 12 13 14 15 16 17 18
Contact & Shipping |Shell Horns | Shell Oil Lamps | World Seashells | Conch Shells | Wedding Horns Wedding Shells | Rentals | Wedding Favors |Polished Shells | Specimen Shells |Capiz Shells | Starfish
Shell Mixes |Pirate Coins & Gear | Sand Dollars | Gift Baskets |Craft Shells | Site Map


Give something no one has ever seen before !
Click all photos for details
Mother nature and I are proud of our lamps and horns
We have taken great care in their creation !



Worlds only Lifetime shell lamps using natural shell chambers to store oil
For all of the thousands of years that man has marveled at the beauty of sea shells no one has
ever mastered the art of closing off the upper chamber to make a natural oil reservoir
Mother Nature and I are both proud of these unique natural never seen lamps
Shell chambers resist predators of all sorts in one of the worlds harshest environments
Our unique process permanently closes and seals the upper chamber forever
These lamps can be easily refilled again and again by removing the wick stem like a cork
All oil is contained inside the shell body. The open mouth remains dry and clean.
With a lifetime fiberglass wick they are lifetime lamps !
Fun and beautiful new never seen before gifts in every price range and size
See the Store for complete selection >>

ggggggggggggggggggggggggggggggggggggg
Go to the Tea Lights 3 piece Sets
Small lamps are wonderful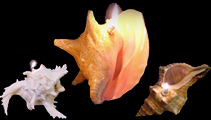 Unique Tea Lights Sets
~ Very Lovely Unique Mother's Day Gifts ~
These lovely lamps will be remembered and used for many years to come !

Bring back your mom's nostalgic youthful trips to the sea again with these lifetime seashell lamps

Now used in celebrity centerpiece decorations of all sorts
Make a South Seas Tropical Centerpiece this year that you can enjoy all year long
Use your imagination with one or an assortment of different shells to make a tropical centerpiece with flowers. Your neighbors have never seen these lamps before
Very loving and unique Birthday and Mother's day gifts that will be used in all occasions
Never seen before Shell candles that will lift the spirits of all who see them
Completely new & unique gifts that are beautiful and economical whether lit or not
Wonderful never seen new Unique Birthday Gifts
Go to Oil Candles & Centerpiece Photo Pages
Amazing unique new lifetime shell lamps that cast a romantic spell on everyone
These very unique lamps are perfect as birthday gift remembrance not just today but all year long
Wonderful Never Seen as Bathroom Candles with Treats or Scents of Potpourri
Totally unusual New Mothers Day Gifts that come in all sizes and price ranges
The Most Magical Unique Birthday Gifts in 500 years !
These handmade lamps have never been made before. So your gift will be as unusual as you are !
These are lifetime lamps that will be remembered and used forever
" Creative people like creative things "