Unique Oil Candles Center Pieces


Unique Wedding Center Pieces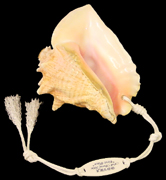 Conch Wedding Horns Never seen lamps & Centerpieces
Store Pages 1 2 3 4 5 6 6a 7 7a 8 9 9a 10 11 12 13 14 15 16 17 18
Contact & Shipping |Shell Horns | Shell Oil Lamps | World Seashells | Conch Shells | Wedding Horns Wedding Shells | Rentals | Wedding Favors |Polished Shells | Specimen Shells |Capiz Shells | Starfish
Shell Mixes |Pirate Coins & Gear | Sand Dollars | Gift Baskets |Craft Shells | Site Map
The Most Magical Flower arranging pieces ideas ever
Most of these shells can hold water and flowers while burning
* Remove the wick stem to fill forever*
Worlds only Lifetime shell lamps using natural shell chambers to store oil
For all of the thousands of years that man has marveled at the beauty of sea shells no one has ever mastered the art of closing off the upper chamber to make a natural oil reservoir
See how Lamps are made info page
Polished & Cleaned Large & Giant Conch Shells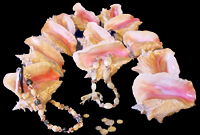 See the new natural cleaned & polished just Conch Shells for sale



Conch Shells
These lovely sea shells have been used as beautiful natural decorations for thousands of years. Use your imagination to make conch sea shell creations of all kinds. Now these rare Giant shells can be purchased directly from ConchKing.com Conch are not an endangered species ! These remarkable Giant shells are hard to get. Unbroken Caribbean Conch Shells. Some of the worlds largest seashells. These sea shells are fished legally. Conch King has Americas finest conch shells. Lovely rare cleaned and cared for sea shells.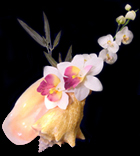 Fresh fished polished & trimmed large just conch decoration shells are spectacular with Flowers !
All of our conch shells are trimmed to stand perfectly as a vase
See the new natural cleaned & polished just Conch Shells for sale
And you can rent the lamps or shells or leis or anything else ? >>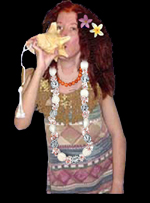 Conch Horns



Lovely Wedding Horns Inscriptions
See special sand carved engraving of Horns lanyard plates >>
Conch horns will turn your wedding into an occasion of jubilation and hi spirits !
Engraved conch horns are wonderful keepsakes after the wedding or groomsmen's gifts
Engraved Conch Horns are Great Tropical Weddings Traditions
Famous Legendary Conch Horns Go to pages
Traditional South Seas Shell Wedding Horns


Listen to the horns & read how to blow shell horns & Facts
_______________________________________________________________________________
These shells are very much a part of the soul of the islands and seafaring history
Totally Unique oil candles as wonderful decoration Ideas and unique wedding Center Pieces
Very Romantic Wedding Receptions Center Pieces indeed ! Never seen before Table Decoration Ideas
Perfect never seen Unique Oil Candles Lovely with water and Flower Arranging
Wonderful as Bathroom Candles with Treats or Scents of Potpourri
Perfect Bridesmaids Gift After decorating the Wedding
These Decorations are as unique as the people they represent
Creative people do appreciate creative things !