Shadow Boxes
Ready made or Custom Shadow boxes !
Contact | Shipping | Home | Nativity | Clowns | Amish |Teddies | Santa | Plants | Dolls | Shadow Boxes
Store Pages 1 2 3 4 5 6 7 8 9


The shadow boxes are actually made one of a kind although they can be reproduced in close likeness. I make them to order with almost any theme, my specialty is working with the dolls, figures and plants of a large variety. I can make any doll or stuffed animal to an exact likeness by having a photograph to go by. I make a baby's room or child's room or shops such as a Flower Shop (see examples below), or a garden room, Santa's Workshop, etc.
My Shadow boxes are handmade. Usually they have miniature wallpaper on the back wall and all furniture or shelves are made of mat board and/or quilling paper. They have a Plexiglas front attached with little gold screws which can be removed and replaced easily if need be. They are very strong and durable and the miniatures don't fade or age. I take great pride in my work and they are very impressive and make a delightful personalized gift for any occasion.

The Customer Service Shadow Box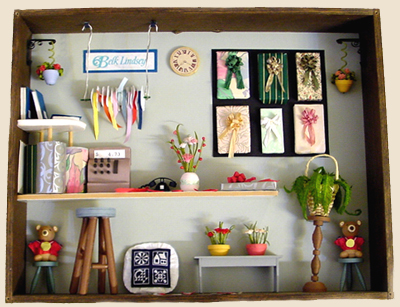 Customer Service Shadow Box 9 x 11" $150.00

The Amish Country Store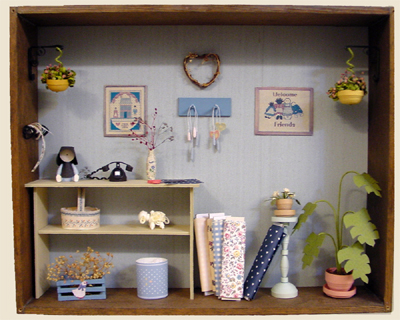 Country Store Shadow Box 8 x 10" $140.00



The Kraft Shop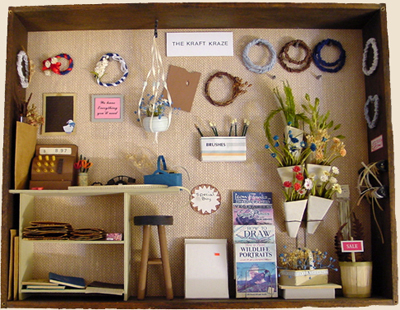 Kraft Shop Shadow Box 9 x 11" $195.00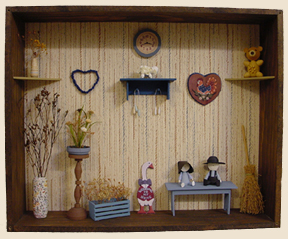 Amish Dolls Shadow Box 8 x 10" $140.00



* Contact >>>> Next Page>>>> *